When adding a new customer, you are sending a request for Direct Debit authorisation.
View our video walkthrough on how to add customers via your dashboard, or alternatively scroll down to read the article.
There are three available options you can choose from to do this:

The Link option gives you the ability to enable customers to sign up via your website, newsletter campaign, or other online presence. You can also send these via your own email.

The Email option sends authorisation requests directly from your dashboard; you can also track recipients via your dashboard.
The CSV option enables you to bulk add customers via a template in which you can include their name, company, email address, and custom references.



LINK
1. Click Customers in the left menu bar within your dashboard
2. Click Add customers in the top right of the page
3. The Link option is selected by default. Click Copy to copy the link to then paste in your desired location.
If you would like to embed your authorisation link within a "Pay with GoCardless" button, please see HERE.
You can also find some example email templates you may wish to use to send this link to your customers HERE.
1. Click on Customers in the left menu bar and then on Add customers.
2. Select the Email option, enter your customer emails (you can enter as many as you like), and add a message to be included in the email they receive.
3. If you've already created one or more plan templates, you will see an option to Add to payment plan.
Select this option to open a dropdown menu where you can select to have your customers automatically added to a particular plan when they authorise their Direct Debit.
4. Advanced options provides two additional settings
a). Selecting the option to Require customer to approve each payment will result in the customer(s) receiving an email for each payment or subscription created for them with an approval button they must click before the payment will process.
b). Select the language for the authorisation form. (By default this will be in the language determined by your IP address).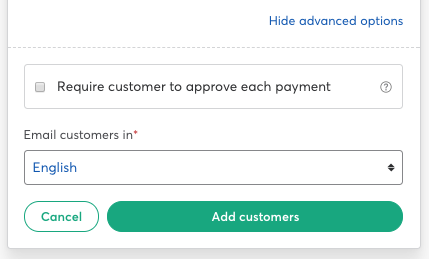 5. When you're ready, click Add customers to send out the authorisation request emails
1. Click on Customers in the left menu bar and then on Add customers.
2. Select the CSV option and click the Download template link
3. Open the CSV spreadsheet in Excel (or similar) and enter your customers' information in the corresponding columns.
One option in the CSV file is to specify the language in which your customers will receive email notifications from GoCardless. To choose a language, simply type the following to the optional customer.language column in the import template:
| | |
| --- | --- |
| Code to enter in template | Language |
| da | Danish |
| de | German |
| en | English |
| es | Spanish |
| fr | French |
| it | Italian |
| nl | Dutch |
| nb | Norwegian Bokmal |
| pt | Portuguese |
| sl | Slovenian |
| sv | Swedish |
Please note that if this column is left blank, notifications will be sent in English.
Once all information has been entered to the CSV spreadsheet, make sure you Save the file.
4. Go to Step two in the CSV add customers option, click Choose file, and upload your saved spreadsheet.
5. When you're ready, click Import customers


6. Your CSV upload will then run through a short validation process to ensure the details have been entered in the correct format for our system
7. Once validated, click Send invitations to send authorisation requests to your newly added customers and then confirm.