This article explains how to cancel a plan. Cancelling a plan cancels all future payments for every customer assigned to it.
View our video walkthrough on how to cancel a plan via your dashboard, or alternatively scroll down to read the article.
Please note: If you are cancelling a plan within three working days of the next charge date, these upcoming payments will not cancel automatically and would need to be done separately. 
To cancel a plan... 
1. Navigate to the Plans page via the plans tab in your dashboard and click on the plan you wish to cancel.
2. Click Cancel in the top right of the page
3. Confirm you wish to Cancel plan in the confirmation box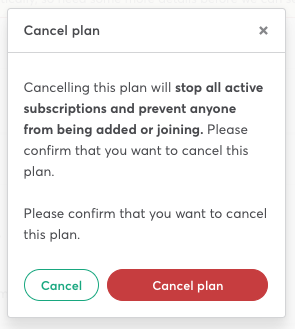 Please note: Cancelling a plan will cancel the payment plan for ALL customers assigned to it.
Only looking to remove an individual customer from a plan? Find out how here.