GoCardless enables you to collect payments from customers both domestically and internationally, through a global network of connected bank debit systems.
At its core, bank debit is a pull-based payment mechanism, putting you in control of collecting payments from your clients, rather than relying on them to send you funds when payment is due.
What is bank debit?
Bank debit is the universal term we use to refer to the bank-to-bank payment method through which payments are processed within the GoCardless network.
Common regional terms include Direct Debit; Pre-Authorised Debit (or Pre-Auth); or in some cases, by the name of their operator, such as ACH in the US. [Click here to read more]
The GoCardless payment process has been designed with simplicity in mind, whilst still ensuring you have the flexibility you need to get paid on time, every time.
The end-to-end process can be broken down into three simple steps :
Invite your customer to authorise you to collect funds from their account *

Set up their payment(s)

Receive and reconcile your collected funds
* A bank debit authorisation, stored on a payer's bank account to allow the collection of funds by a specified party, is commonly referred to as a mandate. Other common terms include Direct Debit Instruction (DDI), pre-auth, or active direct debit.
Payment collection process visualised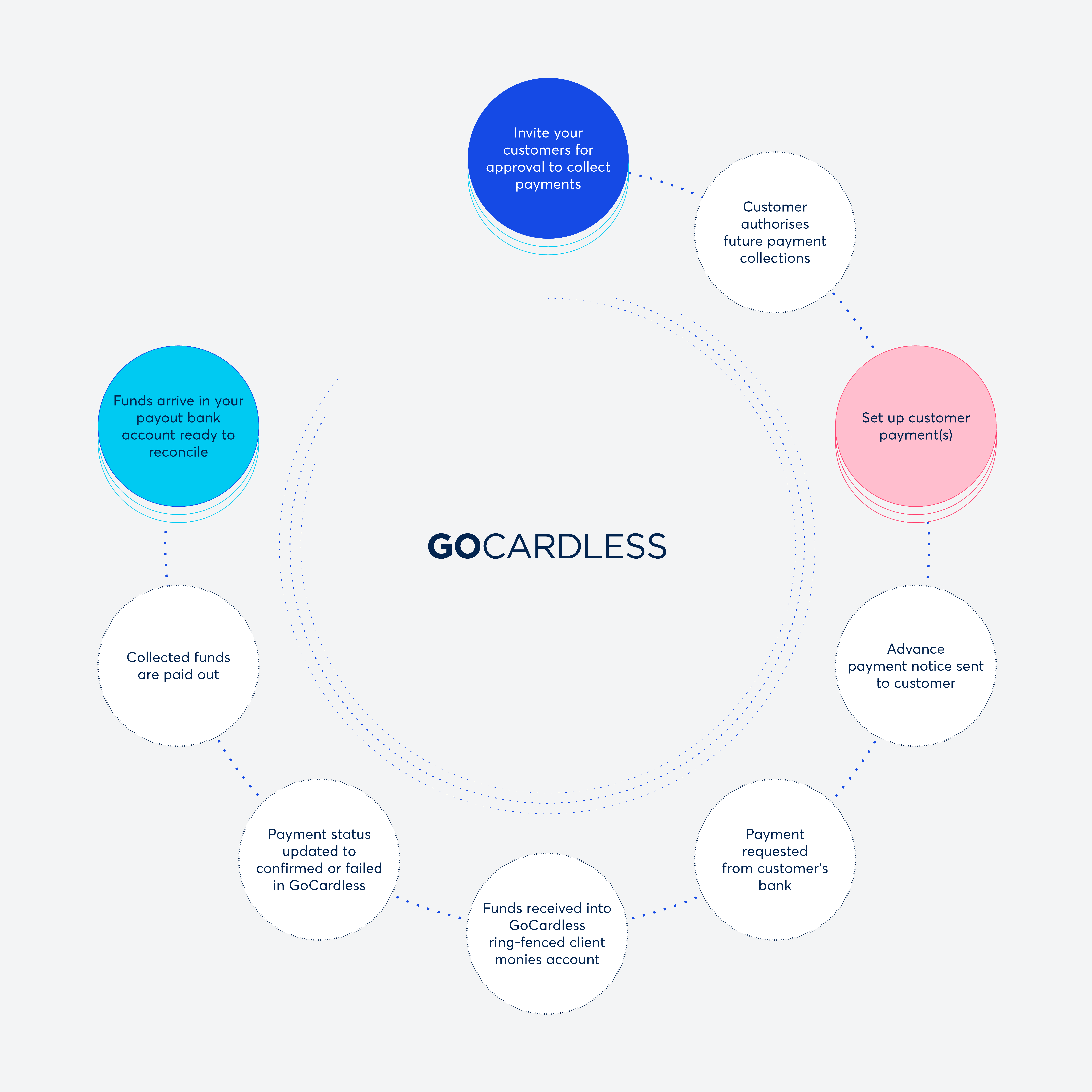 Payment timings
Unlike card transactions, bank debit payments are not processed instantly.
Each country (or in some cases, region) operates its own bank debit scheme with its own rules and regulations. These rules and regulations govern things like advance payment notice requirements, payment request submission processes, failure notice periods, and more.
What is a bank debit scheme?
A bank debit scheme is the infrastructure and/or operational mechanism - and by association, the body who owns, administers, and maintains that mechanism - that enables bank-to-bank payments to be processed within a particular country or region.
The scheme a payment is processed through is determined by where the payer (or more specifically, their bank account) is based. [Click here for more information]
The good news is that we've taken out much of the complexity for you, and work closely with our banking partners to optimise the processes and timings where possible.
Nevertheless, with each bank debit scheme operating independently, payment timings vary from one to another.
Typically, it takes around 5-6 business days from the time a payment is created to the funds being received, assuming the payment has been set up for collection at the earliest available opportunity. This includes any advance payment notice requirements.
The time between a payment being charged and the funds arriving in the payout bank account is on average, 2-3 business days.
You can find an overview of the time it takes to process a payment for each bank debit scheme we currently offer here.